Our Story
When Boy Met Girl...
Girl asked Boy's friend about him and she said "Yeah, I think he has a girlfriend" (lie) so they didn't talk for several months. Then at an Ugly Sweater Party, while attempting (poorly) to open a bottle of wine, Girl needed some help and Boy was happy to step in. After breaking the ice by literally spraying wine all over herself and a kitchen wall, they hit it off. A few dates, some Thai food, and many records later, they decided they were in love. Now they'd like you all to share in that love and also give them presents, but mostly the love part (mostly).
The Wedding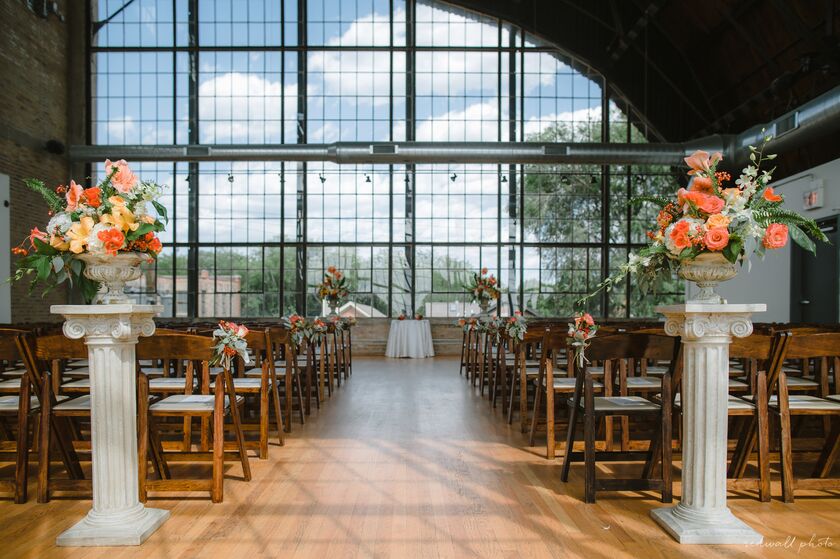 Saturday, November 10, 2018
4:30 PM
Attire: Semi-Fancy
Ceremony and Reception
Ravenswood Event Center
4021 N Ravenswood Ave, Chicago, IL 60613, USA
Arguably the most dramatic wedding ceremony & cocktail event space in Chicago, the Atrium was an early 20th century workshop for large advertising billboards. Perched atop the Ravenswood Event Centers' Loft & Showroom spaces – the Atrium looks out onto the northside's quintessential neighborhood, Ravenswood. With views of the Hancock, El and Metra lines the Atrium becomes much more than a space to get married & dance, it becomes a reflection of why so many people call Chicago home. The Loft level of the Event Center is classic industrial loft Chicago. With rough-hewn wood flooring, timber beams and centuries old brick, the Loft provides ample space for large groups to dine and celebrate. When the weather is nice our two decks extend our events into the sun & moonshine.